Dear Fellow Conservative,

We've known for years that the Obama Administration is anti-faith and that they despise the Catholic Church. But now, with re-election a distant worry, they've taken their hatred to a new level.

Right this very moment, there is a petition on the White House website that condemns Pope Benedict XVI's address to the College of Cardinals and the Catholic Church. Please follow this link right now to make an emergency donation of $16 or more to show your support for Pope Benedict XVI and the Church.

Signers of the petition want to declare the Catholic Church an official "hate group" because of our views on same-sex marriage—and unfortunately, the number is growing. I've taken a screenshot of the website for you, just in case they pull it down before you're able to check it out for yourself.
<![if !vml]>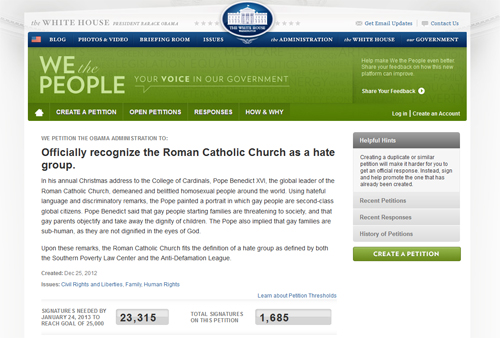 <![endif]>

This petition is truly shocking, and it's an attack against ALL people of faith, not just Catholics! That's why I'm so urgently asking you to stand with Catholic Advocate today and help us launch an all-out campaign against the Obama Administrations hateful, secular agenda. Please follow this link right now to make an emergency donation of $16 or more.

Today it's Catholics who are under attack. Tomorrow it could be Baptists, Methodists, Episcopalians or Jews. That's why we need to put a stop to this vicious culture of hate once and for all! Every dollar you give will go directly towards rallying Americans of all faiths to bombard the White House with emails, phone calls and petition signatures to STOP THEIR WAR ON FAITH!

So will you take a moment right now to donate $16 or more to stop the White House and protect your faith?

Thank you in advance for your urgent support.

Yours in faith,

<![if !vml]>

<![endif]>

Matt Smith
President, Catholic Advocate

P.S. The White House has allowed a petition to declare the Catholic Church a "hate group" on their official website and Catholic Advocate won't take this attack sitting down. But to be effective, we need men and women of all faiths to stand with us and call on the White House to STOP THEIR HATEFUL AGENDA. Will you make an emergency donation of $16 or more to support our efforts? Your faith could come under attack next, so please stand with us today.
<![if !supportLineBreakNewLine]>
<![endif]>
Paid for by Catholic Advocate
2100 M Street NW | Suite 170-358 | Washington, DC 20037